Wednesday Noon Communion
Every Wednesday, from 12/07/2022 to 12/21/2022, 12:00 PM - 12:30 PM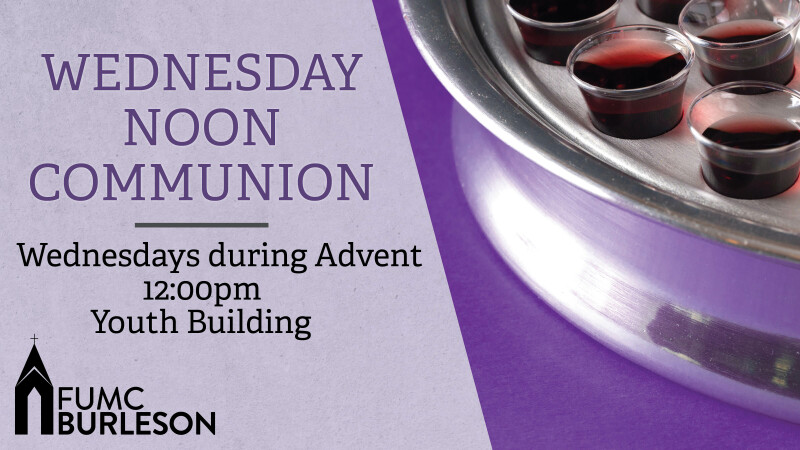 As we enter Advent, a season of eager and expectant waiting, you are invited to short, weekly Wednesday Noon Communion services that will be held weekly at 12:00pm in the Youth Building on the back side of campus beginning on Wednesday, November 30th. Whether you're out doing errands, at home, or on lunch break from work, we invite you to stop by (and bring a bag lunch, too!) for a time of reflection, Communion, and worship together. Kids are encouraged to participate with their families since childcare will not be provided.
Questions? Reach out to our Pastor of Discipleship, Rev. Margret Fields, at .
FUMC Burleson offers opportunities for individual and relational growth in faith through small groups and studies designed with all ages and stages of life in mind. We also offer congregational care groups such as prayer team, grief support group. For information about small groups, visit fumcburleson.org/discipleship, and for information about care & support, visit fumcburleson.org/care.
First United Methodist Church of Burleson is located at 590 NE McAlister Rd, Burleson TX 76208. For more upcoming events and activities at FUMC Burleson, visit fumcburleson.org/events.